15 British Retro Sweets To Include In Your Holiday Hampers
Now that lockdown restrictions have largely been lifted, you will want to be prepared when you get together with your family for the coming holidays. Want something unique to give to your loved ones? Give them a rush of nostalgia with a retro sweet hamper. Below is a list of our top retro sweets that you can add to your sweet hampers.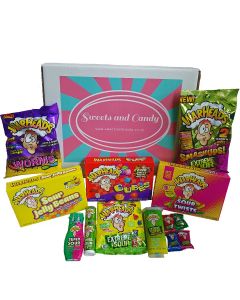 1. Fizz Wizz
These iconic popping candies can be easily recognised by anyone. Aside from giving you a funny sensation in your mouth, they have amazing flavours. These candies were made by chemists in a science lab, and according to an urban legend, your stomach would explode if you ate these candies and then drank coke or Irn-Bru. However, this legend is just a false assumption, and these candies are a great addition to your hampers to get the fun going.
2. Drumstick Bubblegum Chew Bars
These chewy lollies originally featured two flavours: raspberry and milk. Swizzels then began to produce other flavours like bubblegum, lime, and orange, and they even released a chocolate bar.
3. Barratts Liquorice Wands
These candy sticks are another blast from the past. They are made from liquorice and topped with sherbet sprinkles, making them look like they are ready to cast a spell on you. These candy sticks taste sweet and fruity, and will make anyone's mouth water.
4. Chewits
These cuboid-shaped sweets give everyone a bite-sized sugar rush. Chewits are great additions to your basket of sweets and come in strawberry, fruit salad, and other exciting flavours.
5. Monster Jawbreaker On A Stick
Who wouldn't be familiar with these hard candies that everyone tried to break? These multi-layered sweet candies are amongst the most beloved candies whenever they are added to a basket of sweets, and for good reason. Also known as "gobstoppers" here in the UK, they are sure to keep a mouth busy for a while. Not only that, but they also come in a wide range of flavours.
6. Swizzels Candy Lipsticks and Whistles
These will surely bring out the kid in anyone who receives your retro sweet hampers. Swizzels candy lipsticks and whistles will make anyone remember how they played with these as a child and how funny and silly it felt.
7. Vimto Chew Bars
These bars are a tribute to a British drink that was initially made to be a health tonic. This drink contains raspberries, grapes, and blackcurrants. It has a sour flavour that's familiar to most people in the UK. If you know someone who loves this taste, they will also enjoy these chew bars.
8. Fun Gums Giant Teeth and Toothbrushes and Foam Mushrooms
These quirky candies are great for people with a sense of humour. They are a great addition to your hampers and will surely be a hit to everyone, young and old alike.
9. Jamboree Bubblegum Balls Jar
These bubblegums have classic round and colourful designs that add the right amount of sweetness to any sweet basket. They can easily be the star of your gift because your loved ones will be getting them in a jar. Jamboree Bubblegum Balls also come in many fruity flavours.
10. White Mice Bars
These white chocolate mice will surely remind you of your youth. White Mice Bars are creamy and soft, and are individually wrapped so that you can easily add them to your party bags.
11. Hannah's White Jazzles
No one knows the exact meaning of the word "jazzle". Nevertheless, these chocolate-flavoured candy buttons are definitely a treat. They are also covered with sprinkles that add to their character and unique taste.
12. Lickedy Lips Spray and Brain Licker Spray
These sprays are made from sour candy liquid. Anyone who knows these sprays will likely be familiar with them because they saved up pocket money to buy them from the store as a kid. They come in various flavours, including blue raspberry, strawberry, and grape. These sprays can also be something that kids nowadays will enjoy.
13. Toxic Waste
Of course, we're not talking about actual toxic waste. These candies are amongst the top-selling sour candies in the UK. This is because they are very sour, and it's fun to see someone trying to hold these candies in their mouth for a long time. Although they are extremely sour, they come in great flavours, including red pear, raspberry, red grape, strawberry, and cranberry. Other varieties come in various flavours, such as lemon, watermelon, apple, kiwi, and melon. Toxic Waste also has a nuclear fusion variety that combines two flavours in one.
14. Barratt Chewy Nougat Bars
From something sour, let's go back to something sweet and mild. These nougat bars are the ideal choice, boasting a unique sweet and nutty flavour with a very chewy texture.
15. Vidal Tongue Painter ZOOM Lollies
These lollies are surely going to make your holidays a whole lot more enjoyable. Kids will surely love these bubblegum sweets as they're not only delicious – they also turn one's mouth into vibrant colours like red, green, or blue!
Conclusion
Retro sweets are a way to remind your adult guests of the innocence and the joys of being a child. These are simple treats that will make the grown-ups reminisce about how good it felt to have once been a child once. Not only that, but the kids of today will surely enjoy them as well!
Get The Best Items For Your Sweet Hamper Here!
Finding the right candies to add to your sweet hampers can sometimes be difficult due to the lack of options, especially in wrapping them individually. However, you don't need to be discouraged because we have the solution for you.
Sweets and Candy specialises in all sorts of delicious treats, whether it be the latest flavour releases or retro candies. You can also pick and choose what packs you need so that you can customise your gifts and giveaways according to your liking. We carry various brands so that you can find your favourite sweets and candies at a price that will leave you wanting more.
So, what are you waiting for? Check out our store today!