American Candy Hampers – The Best Gifts For The Holidays
Christmas and New Year are right around the corner, and many feel the pressure as they strive to find the best gifts for their friends and family. What can be the best alternative gifts one can give to their loved ones? Make their special occasion a lot sweeter with a carefully curated American candy hamper. Everyone loves sweet hampers, and with popular sweets from the US, their holidays will become merrier.
A great hamper must have a good selection of popular and favourite sweets. This list of American sweets will make a great impression on the recipient, seeing that the American treats hamper they received is teeming with original sweets brands imported from the US.
What's more, anyone can enjoy these hampers not just on the holidays, but at the weekends, too, when people want to relax and unwind. With these energising sweet treats, recipients will surely feel a whole lot better after a stressful week. Here are the top sweets one can add to their American candy hamper.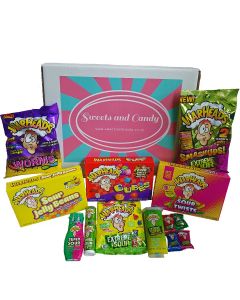 Kitkat Mocha and Chocolate
These popular breaktime snacks have gone up a level to give everyone with a sweet tooth a great time. These are two crispy wafers both dipped in mocha crème with bits of coffee and sweet chocolate.
Warheads Sour Dippin' Pucker Packs
These are favourites among children because of their flavour and their chewy texture. Customers can choose from a range of flavours, including Sour Blue Raspberry dipping stick with Sour Cherry powder and Sour Watermelon dipping stick with Sour Green Apple powder. These delightful dipping candies bursting in combinations of mouth-watering flavours are sure to be a hit with your loved ones!
Sweetarts Chewy Ropes
SweeTARTS are known for their soft and chewy rope-like appeal that makes the candies a delight to eat. They come infused with flavours of familiar sweet and tart combinations that will tingle one's senses all over.
Sour Big Chewy Nerds Theatre Box
No one knows why the company decided to call these nerds, but everyone agrees that these are addictive. These candies are among the most recognisable American sweets that are hard to miss, even without the packaging. These bright-coloured candies come in a great assortment of flavours, including strawberry, grape, orange, and lemon.
Airheads
Airheads can also bring a rush of nostalgia to your recipient. These treats will go beyond their expectations and give them a sweet memory anytime they share them with their friends or even enjoy them alone.
Sour Patch Kids
These candies went viral for some time in the last few years, and it's for a good reason. They bring joy to anywhere they are opened and consumed. Due to their popularity and great taste, they should be a staple in any hamper gift for the coming holidays.
Zero Bar
Zero candy bars mix caramel, peanut, and almond nougat and are covered with white chocolate fudge. These are rather uncommon in most UK stores, which is why they will add a great twist to a holiday hamper. It is not surprising if these are the first to go out of stock when the hamper store opens on holiday.
Zagnut
Americans love these crunchy treats. They have a peanut butter centre and are coated with toasted coconut flakes. Add one to an American candy hamper, and the recipient will surely love it. They might even find out it is their new favourite candy as well.
Almond Joy and Mounds
As a product of Hershey's company, this has all the characteristics of an all-American candy. It has almonds, milk chocolate, and their favourite, shredded coconut. It is something that testifies to their love for innovation and sweets. On the other hand, Mounds is for those who love dark chocolate.
Whatchamacallit
This is one of America's favourite chocolate bars. It was introduced in 1978, and this candy has been a hit ever since. It has a peanut flavour crisp bar, topped with caramel and dipped in delicious milk chocolate. This candy is a perfect item to put in an American candy hamper if the recipient loves creamy sweets.
Hershey's Chocolates
There's no other chocolate that paints the picture of an iconic American sweet treat than a bar from Hershey's. This needs no further introduction. There are many flavours to choose from, and one can even find a dedicated Hershey's hamper to try out all the many assortments of this famous chocolate bar.
Mike and Ike
With their quirky names, Mike and Ike are a great way to make children laugh. These are oblong-shaped fruit candies that come in various flavours and colours.
Dr Pepper Cotton Candy
If you're craving something different from the rest, Dr Pepper Cotton Candy may be the answer. The iconic drink is now in this candy floss form. This melts in your mouth and has a smooth and sweet flavour that's sure to be gone in a few minutes!
Reese's Dipped Pretzels
No other candy brand has perfected the peanut-flavoured genre like Reese's. Now, candy-lovers can enjoy them in a different form. Any pretzel lover will appreciate these candies too.
Chips Ahoy! Original
What is an American hamper without the well-loved Chips Ahoy! Original cookies? These are among the world's favourite cookies. Those with a sweet tooth should not forget to add them to their American candy hamper.
PayDay Chocolate Bar
Nothing is sweeter than payday. Now, you can have a PayDay every day, and it would be equally sweet. These come in various flavours, as well, to suit different sweet tooth's taste buds.
Kisses
Finally, who wouldn't recognise Kisses? These are among the most famous types of chocolate with their unique shapes and a delicious taste everyone loves.
Best Candy and Chocolate Supplier
If you are planning on giving away sweet hampers for a holiday, make sure to find the right supplier to avoid issues with the quality, stocks, and delivery of your orders.
At Sweets and Candy, we have a wide selection of various candies. You name it; chances are, we have it. You can enjoy classic favourites and even find new ones to add to your list. Easily find them on our website.
We offer free delivery for orders above £25. We also have other sweets that will surely delight your kids and your tastebuds. Call us on 0121 558 9541 or write to us at sales@sweetsandcandy.co.uk, and find the best-tasting American candies for your loved ones!