How To Plan The Perfect Sweet Hamper Delivery
No matter what the occasion is, we all want to give unique gifts that the special people in our lives will appreciate. Sweet hamper delivery is one of the best ways to surprise someone on their birthday or to send some congratulations on a recent promotion, perhaps, or even an engagement. Sweet hampers tell the recipient that they're on your mind and that they deserve all the sweetest things in the world.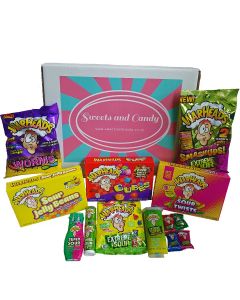 You can find many places online that offer sweet hampers, but are they going to deliver the kind of impact you want it to have?
For this reason, it's important to plan the perfect sweet hamper, from the type of confectionary you want to include to the way you give it to your recipient. Otherwise, what you're hoping to be an amazing gift might end up being a disappointing surprise.
Here are a few things to think about when choosing a sweet hamper:
What type of treats will the recipient enjoy?
If you're giving hard candies or any sweets to someone, wouldn't it be great if they're something that the person will truly enjoy? Knowing the person's favourite kind of chocolates or sweets and putting them together in a single package tells them they're worth your time and effort.
If you're giving the hamper to a colleague that you're not that close to, that's okay! You can still make them happy by checking out the shop's bestsellers. This way, there's a huge chance the person receiving it will still enjoy it even if you're not too sure about the person's taste or brand preferences.
How much will it take to put together the perfect hamper?
The cost will always be a factor when you're putting together sweet hampers for friends and family. You'll want to make sure that you're sending the best gift possible without having to go over your budget.
The great news is, some stores offer cheap sweet hampers with free delivery. When you get them from the right online retailer, the quality of the sweets is not compromised, even if the price is low. The free delivery will also help you save money, knowing that you can use the money you'll be spending on delivery costs elsewhere.
How long will it take for the hamper to be delivered?
You should know when the retailer will deliver the hamper, especially if it is a gift for someone on their special day. Some stores offer next-day delivery, but this also means paying extra for the expedited service.
If you don't want to pay for rush delivery, make sure you order ahead of time based on the store's timeframe for regular deliveries.
When you buy from the best sweet hamper store online, there's no doubt that your recipient will be overjoyed once they receive their gift. That alone is worth the extra research needed to find the best online shop.
Why Sweet Hampers are the Best Gifts
Going out of your way to put together a sweet hamper for someone will show that person how they mean a lot to you. Sweet and chocolate hampers are amazing gifts for these reasons:
They're great for any occasion.
It doesn't matter what the special occasion is. A sweet hamper will always be fitting for it. Sweet hampers are great for birthdays, graduations, and even on wedding days, especially if you know that the recipient has a sweet tooth. It's great for reunions, welcome back parties, and even for job promotions.
Everyone eats sweets and chocolates.
Everyone has their taste preferences, but everyone loves their fair share of sweets. Some may have more conservative preferences than others, but they'll eat sweets all the same. Even vegans enjoy a good dessert, especially if you get them vegan chocolates. There are also sugar-free options for those who have health problems and cannot eat a lot of sugar.
Here at Sweets And Candy, we sell the best sweet hampers in the UK while still providing you with competitive delivery prices! You can send your sweet hampers as gifts to recipients across the UK.
Feel free to browse through our catalogue to start putting a hamper together for a special occasion. For enquiries, call us here at Sweets And Candy now at 0121 558 9541 or email us at sales@sweetsandcandy.co.uk.
FREQUENTLY ASKED QUESTIONS
How much does it cost to send a hamper?
At Sweets And Candy, standard prices start from £1.99, while next day delivery is available for £2.99. For hamper orders above £25, they deliver everything for free. The rates for deliveries to European countries are usually £7.95, while countries in North America, South America, Australia, Middle East and Asia cost £9.95.
How do I parcel a hamper?
You can parcel your sweet hamper by using wrapping paper to cover the entirety of the basket. Cut off any excess wrapping paper and use some tape or a stapler to close any openings. If all of this seems like too much effort for you, however, you can simply get in touch with a reliable sweets basket delivery service.
How much does chocolate cost in the UK?
The price of chocolate products in the UK have fluctuated over the years. Based on the statistics from 2008 to 2019, the price per kilogram of chocolate bars in the United Kingdom dropped about £5.98 in 2019. The prices per kilogram for chocolate bars peaked in 2012 at £6.07.
What is the meaning of "gift hampers"?
Gift hampers are a bundle of food and drink items. These goodies are often given as gifts – for instance, holiday or birthday sweet hampers. In North America, the term 'hamper' means a basket for storing fresh laundry, but here in the United Kingdom, a hamper simply refers to a gift basket.
Can I order sweets online?
An extensive selection of chocolates and sweets can be acquired through online shops. From collections of sweet treats to hampers and chocolates, everything is available online. Fast delivery service is also available throughout the United Kingdom. Even sweet hamper deliveries from overseas are possible.
When did hampers start?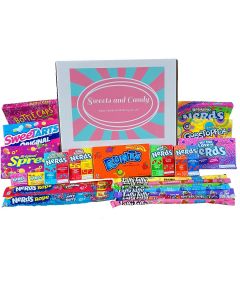 Hampers were introduced to Britain by William the Conqueror in the 11th century. The hampers were designed to contain food, drinks, and clothing. The hampers full of these items were then sent to families as charity. Today, hampers are well known as a popular gift item for friends and family.
A Guide To Dairy-Free Chocolate
Many people don't know that vegan chocolates exist. Chocolate mainly uses cocoa beans, which come from cacao trees that are native to Central America. Therefore, cocoa beans are vegan by default. Most chocolates are mixed with other ingredients (especially milk), which may make the final product non-vegan.
There are two types of vegan chocolates: dark chocolate with no ingredients produced from animals and chocolates with alternative dairy-free milk. Examples of vegan chocolates are dark chocolates with a high percentage of cocoa. These do not have any milk added.
Pros And Cons Of Sugar-Free Candy
When compared to the standard candy, sugar-free sweets are better. Sugar-free confectionery use artificial sweeteners instead of using real sugar. These artificial sweeteners can produce a sweet taste similar to using sugar. Although most artificial sweeteners have lower calorie counts, not all are calorie-free.
Artificial sweeteners such as saccharin, aspartame, stevia, and sucralose are calorie-free. Another alternative is sugar alcohol, which sometimes contains carbohydrates. You need to remember that the other ingredients used in making the sweets may be unhealthy as well. To be sure, you need to properly check the whole product instead of just reading the calorie count of the sweeteners.
Tips On Choosing A Perfect Sweet Shop Online
There are numerous stores online that offer countless different sweets and candies. Choosing one can be difficult, but here are two tips that you can follow to get the best candies online.
First, you should know what candy you want. You should already have a specific flavour, brand, ingredient amount, and other details about the candies you want to purchase. Doing so will make it easier to choose an online store to purchase from.
The second tip is to purchase candies from stores near you. The best benefit this can bring is that your candy box delivery will arrive more quickly than online stores located miles away.
Ingredients In Vegan Sweets
You have limited options to choose from when buying vegan sweets compared to normal sweets and chocolates. However, with many clever chefs around the world, the selection of vegan sweets have expanded a lot.
Today, many brands such as Haribo, Candy Kittens, and M&S are now producing vegan-friendly sweets, allowing people to acquire a vegan candy basket delivery easily.
One of the most avoided ingredients in vegan sweets is gelatine. Gelatine acts as a gelling agent. It raises the melting temperature of sweets during the manufacturing process, which helps the sweets last longer.
If you want to acquire sugar-free or vegan sweets or any other type of candies, Sweets and Candy is the best place to be! Call one of our representatives today and customise your own sweet hampers basket.