What Are The Steps In Making A Sweets Hamper?
Sweets hampers are some of the best gifts you can give to anyone on a special occasion. Sweet hampers have become more popular around the UK as a gift of choice, especially when you want your gift to stand out from the rest.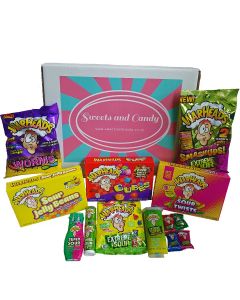 Also known as a sweets basket, these hampers are a collection of candies, chocolates, and other goodies meant to be gifted to someone special. There are so many options for sweet boxes in the UK, so you have to make sure you're putting the right elements together.
Here's how to put together the perfect sweet and chocolate hamper for your friends and loved ones.
1. Find out the recipient's preferences.
Everyone has a sweet tooth in one way or another. Some may prefer the usual milk chocolate over candies, while others love some twist in their dessert, like mint-flavoured chocolates. Imagine their reaction when they receive your package and find a hamper filled with their favourite sweets. It makes them feel even more special, knowing that you went out of your way to personalise the gift.
For other people, it may also not just be about personal preference, but their health and lifestyle as well. Some may not be allowed to consume a lot of sugar, so sugar-free candies could be a better pick for them. Those who maintain a healthy lifestyle might appreciate vegan chocolates better.
2. Find a store where you can buy a hamper.
Now that you have an idea what kind of sweets to get, it's time to find a store where you can put them together. So, find a shop with a wide variety of candies to make sure you have a few choices.
Also, make sure you have enough time to have the hamper delivered. If you're sending a birthday or anniversary gift, you don't want your recipient to receive the gift too soon or too late. Then, check the stores that can deliver the hamper within the timeframe you're setting. Note that some stores offer rush shipping and could have sweet hampers delivered the next day. However, rush delivery would also mean higher delivery costs. Therefore, ensure that you allot enough time to look for a store with competitive delivery prices, so you don't have to exceed your budget.
3. Choose from the assortment of candies and chocolates available.
If you've chosen the right store, you'll probably be faced with a huge number of options to choose from. You can pick one from the pre-packaged hampers or choose to customise and make your own.
If the store you ended up choosing does not allow you to build your own hamper, then this should tell you to rethink your store choice. After all, you want your gift to be as personal as possible. A hamper you personally put together accomplishes that.
Ensure you take advantage of any filter that's available in the catalogue online to make personalising hampers much easier. For example, you can set a specific price range if you want to strictly follow your budget and purchase sweet hampers in the UK for under £10.
4. Set the delivery details and complete the purchase.
You've carefully considered your options and have chosen a hamper that you feel will make the recipient happy. Now, it's time to check out your order and have it delivered.
The delivery details are critical. The last thing you want is to have a delay in the delivery because you missed a minor detail on the address.
Once you've made sure that all the details in your order are correct, you can put in your payment information and make the final purchase.
Putting a sweet and chocolate hamper together is easy to do, especially if you decide to buy the package from a trusted store. The right store will also have amazing customer service, which means that anytime you find yourself confused about what to get or how to put a hamper together, you'll have someone to guide you every step of the way.
Customer service is also important in case you encounter problems with your order. Perhaps you are unable to input the right details on the form or are encountering an error when you try to check out your order. You can talk to the customer service representative to sort things out for you and get things back on track once again.
Call us now here at Sweets and Candy on 0121 558 9541 and let us know what type of hamper you need. Feel free to browse through our catalogue and choose from our wide assortment of sweets.
FREQUENTLY ASKED QUESTIONS
What sweets can you only buy in the UK?
There is a huge variety of sweets that originated in the UK. All sorts of liquorice come from this country, too. Wine gums are also a local delicacy in all parts of the UK. Other than these, well-known UK brands such as Smarties, Cadbury, Kinder Surprise, Flake and Bounty are also famous in other countries.
What is in a gift hamper?
Sweets baskets contain various sweet goodies depending on the occasion. Suppose you're giving out gift hampers for Christmas. You can add plum pudding, fruitcake, chocolate, jam, dried meat, a variety of cheeses, nuts, and so on. On the other hand, if you're giving it as a birthday or anniversary gift, you can personalise the hamper according to the recipient's preferences.
Is a hamper a good gift?
Hampers are unique presents suitable for any occasion as they are highly customisable. The recipient will also know that the giver has put a lot of thought into putting together a gift basket. Data shows that people who learn about sweets hampers for the first time would start giving them out as gifts on any given occasion.
Can you send food hampers?
Yes, you can have your sweet hampers delivered to your recipient instead of handing them personally. Some of the best food hampers in the UK are retro sweet hampers, which contain well-known and loved sweets that evoke pleasant memories from childhood. Your sweet hampers will be packed securely and transported carefully, so they will reach your recipient safe and sound.
How do you organise a food basket?
There are numerous ways to arrange a food basket. The classic way to do it is to first put the largest or heaviest items, like candy jars, in the back. Then, place the smaller items in front, so they can be easily seen. Add many smaller items, such as individual pieces of chocolates and candies, to fill the gaps.
How do you make a gift hamper?
It's good to look for basket inspirations and choose a theme. So, if you are going for a candies basket, the next step is to curate and shop for the items. Then, prepare the decorations and materials to be used, such as ribbons, craft paper, cellophane bags, scissors, and tape. Prepare your work area and the items, then start crafting.
Benefits Of Chewing Gum
Did you know that some people prefer having chewing or bubble gum in a sweets hamper? As much as it is a niche item to include, there are people who appreciate having a pack of gum included in their hampers because of its benefits. Here are some:
• It prevents bad breath
• Sugar-free, xylitol-sweetened gum prevents tooth decay
• Relieves dry mouth by increasing saliva flow
• It helps in whitening teeth and removes surface stains
• Studies show that chewing gum can relieve stress
Great Things To Include In A Gift Hamper
When you are planning to curate a sweets hamper for a loved one, the world is your oyster. Your choices are not only limited to sweets; you can always put in some of their favourite items for a twist. For instance, if the recipient loves to read, you can add books to basket of sweets. You can include bestsellers, newly released novels, cookbooks, and so on. If your loved one likes games, you can include small puzzles for a more unique sweets hamper.
Fun And Fascinating Facts About Sugar-Free Candy
A chocolate box is a thoughtful way of saying you care and cherish a person. However, not all people like or are allowed to consume foods with sugar. With this, you can still experiment with putting together a sugar-free candy bundle.
When choosing sugar-free delicacies, make sure to check the ingredients first. There are items that are advertised as sugar-free products that still contains sugar in one form or another. See to it that the candy bar uses sugar substitutes, such as maltitol, erythritol, xylitol, and more. You can also opt for products that have stevia. The last thing you want is to endanger their health, so double-check the ingredients list!
Health Benefits Of Eating Chocolate
Aside from the fact that chocolates are a great addition to a sweets hamper, there are certain health benefits to them as well. Here are some:
• Lowers risk of major illnesses
• Prevents blood clotting
• Minimises inflammation
• Stimulates the brain
• Reduces and manages body weight
• Lifts mood
• Keeps the mind sharp
• A great post-workout treat
While these benefits can really help the mind and body at times, the key to not overeating chocolates is by portioning them out. Health benefits aside, these sweets can be a perfect present to show how much you appreciate someone. Check out our store at Sweets and Candy now for a wide variety of sweets hamper as gifts!