What Factors Should You Consider When Ordering Sweet Hampers In The UK Online?
A sweet hamper in the UK is the perfect gift for any special someone – particularly those with a sweet tooth. So, if you have a hard time deciding what to get for someone, you should definitely go the whole hog and get sweet hampers.
A sweet hamper might not immediately strike you as something you can order online. Still, with more and more businesses moving online, doing so has become a piece of cake.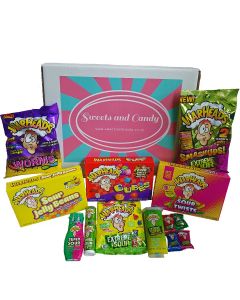 Buying your gifts online comes with its own set of benefits. First, you save on time as you do not have to drive and visit the shop physically. In addition, there are often better discounts and freebies offered on the Web. Last, and definitely not least, is how easy it is to get a sweet hamper delivered to your recipient.
To better tailor the gift to the lucky recipient, you can opt to design your own sweet hamper and come up with a personalised gift. If you know what the receiving party likes best, you can request a set comprised of items that suit the recipient perfectly, including retro sweets – that way, you know they'll love it!
While there is no doubt that the contents are important, the presentation also matters. With a custom order, you can opt for their favourite colour or match the theme of their party. Aside from holding the goodies, the basket is a reusable item that can be reused for storage or decoration!
Another essential detail that you should never take for granted when buying sweet hampers is the delivery date. This should be double-checked as you certainly do not want your gift to be delivered late. It might seem like a trivial matter, but it's best to make sure a gift arrives on time if at all possible. When it comes to sweet and chocolate hampers, you should also look into the consumables' expiry date.
Suppose the hamper you have chosen includes certain items that are not always available. In that case, it might take time for them to be ready for delivery. This is why it is recommended to order your hamper as far in advance as possible. This gives the shop ample time to prepare it for your preferred delivery date.
It is also a must to take the occasion into consideration when choosing the gift hamper. Unique sweets and themes can be incorporated into the hamper to make it more appropriate for the event.
If you are out to get a gift for someone to celebrate a special day and want to give something sure to please, you should check us out at Sweets and Candy. We have been selling confectionery and sweets for more than twenty-five years, and we are proud of the wide selection of products that we have available in-store and online.
Our online store at https://www.sweetsandcandy.co.uk/ has everything you need, including British and American sweets, handmade sweet gift boxes, novelty sweets, and many more! In addition, we deliver at very affordable rates anywhere in the UK. Enjoy free delivery for all orders over £25!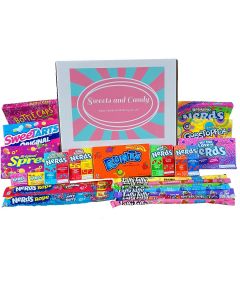 You can also call us at 01215589541 or email us at sales@sweetsandcandy.co.uk if you want something specific, something currently not in our stock, or you have any questions about our current products.
FREQUENTLY ASKED QUESTIONS
How do you arrange a food hamper?
Build your own sweet hamper by surrounding the largest or tallest items with smaller ones to wrap them easily. Try to follow the rule of thirds when arranging them, grouping them in threes and trying to shape them like a triangle as well.
Why is it called a hamper?
A hamper is a "large basket or wickerwork receptacle with a cover", which people generally use as a packing case. In the early 1800s, people would put fruits, vegetables or grains in a "bushel hamper" or "hamper basket", similar to a large bin.
What is the meaning of a gift hamper?
A sweets gift basket in the UK is a personalised collection of sweets, presented as gifts and sometimes placed in a hamper. This gift can be a mix of sweets, chocolates and other sweets that you can customise to make it fit for a particularly special occasion or person.
How much is a quarter of sweets?
Back then, people use the term "a quarter of sweets" to order a bag of sweets that weighed 1/4 of a pound or 113 grams. Shops during the olden days sold sweets from jars in a traditional setting. Nowadays, businesses use digital scales instead of standard scales, though many specialist shops still use traditional measurements.
Can I order sweets online?
Yes, you can. Many shops such as Sweets and Candy sell online sweet hampers in the UK, and we can offer vast options of sweet treats, hampers, and chocolates. We even allow you to choose the sweets you want, personalise your hamper or order in bulk. You can expect us to deliver your order quickly and at a reasonable price.
Benefits Of Buying Gift Hampers Online
Convenient: If you opt to buy candies in a basket in the UK online, you won't have to travel to a shop to get them.
Fast: Ordering sweet hampers online means you won't have to wait in line to pay for your purchases.
An Array Of Options: Online shops are perfect for your sweet tooth because you can expect them to have sweets that are not available in local stores.
Customer Feedback: You can rely on customer reviews to know how excellent and reliable a sweet shop is.
Things To Consider When Creating Gift Baskets
Favourite Sweets: What sweets do the lucky recipient like best?
Personalised Gift Baskets: Match the theme of the party, their favourite colour – perhaps the gender of a newborn at a baby shower?
Size: Gift baskets come in a range of sizes from a personal sweet hamper, family sweet hamper or even a party sweet hamper!
Fullness: It's better to make your basket look full. This doesn't mean filling it entirely, though. You can always use something for a riser.
Things To Know When Buying Chocolate Hampers Online
Contents: Besides chocolates, your hamper can also have other food items or related gifts.
Budget: It doesn't have to be expensive; you need to maximise your budget.
Date: You need to have it delivered at the right time.
Shop: You should buy your chocolates gift box in the UK from a reliable online shop like us, Sweets and Candy!