Mars Food Global President Fiona Dawson Steps Down
Fiona Dawson, the highly renowned global president of Mars Food, is stepping down from her position to retire from the business this July. Mars Food is a company with a long history of producing chocolate for sale and for inclusion in sweet hampers worldwide, as well as manufacturing various other food products. Dawson first joined the company in 1990 as brand manager for Snickers, one of the company's mainstay products and a great favourite in sweetie hampers in the UK and beyond.
Dawson has held other key roles in the company during her long career in the industry, serving as the European Marketing Vice President and Managing Director of Mars Chocolate UK. In May of this year, she was awarded with a CBE for her services both to women and to the economy.
At Mars, Dawson is set to be replaced by Shaid Shah. Like Dawson, Shah has a long, proven track record, most notably serving as the President of Mars Wrigley Europe, CIS and Turkey. He's long been known for his effective leadership and ability to perform while managing competent and diverse teams, so it seems that the future of the company is in good hands.
A Short and Sweet History
Mars first introduced Snickers in 1930, when the name was taken from the Mars family's favourite horse. It was then marketed as Marathon for the UK and Ireland markets. The chocolate bar consists of nougat, caramel, and peanuts with a coating of chocolate.
Snickers have been introduced in different flavours over the chocolate bar's time in existence. The latest flavour, to be released in August of this year, is the Snickers Almond Brownie. This will have a chewy brownie filling with a mix of chopped almonds, will be topped with caramel and then coated with dark chocolate. The standard bar will weigh 1.26 ounces, the Share version will be 2.52 ounces, and the Sharing Stand Up Pouch will weigh 6.93 ounces.
The Almond Brownie flavour follows two other brownie specials: the Snickers Peanut Brownie and the Snickers Peanut Brownie Ice Cream. The former is a chewy peanut butter filling with a layer of caramel, while the latter is a brownie flavoured ice cream with chewy brownie bits, a thin layer of caramel on top, and peanuts coated in milk chocolate. These two brownie versions are both currently available in the UK.
Michelle Deignan, Mars Wrigley Senior Brand Director, said that it's the unprecedented interest in the two brownie specials, which prompted the new Almond Brownie series launch. She said the company is keen to deliver better memories and smiles to the chocolate bar's fans by unveiling the new version out to its loyal fans.
The company promises that the new Snickers flavour will have the same satisfying taste and texture that is undoubtedly one of the hallmarks of the Snickers bar. Many of the brand's faithful customers will surely save some space in their sweetie hampers UK-wide for this all-new release.
Mars Reimagines Its Business Operations
Mars is looking to transform its business to become a digital-first company that propels rapid innovation and growth. This is the key reason behind their collaboration with the Microsoft Corporation, expanding on an already long-term relationship that will focus on the digital transformation of Mars. The company uses the Microsoft Azure platform to make its manufacturing smarter and faster. The two large companies are collaborating to connect with transparent and responsible data using artificial intelligence and digital technologies.
According to Sandeep Dadlani, the Chief Digital Officer of Mars, this partnership helps transform how data and technology are used to ensure that the company can provide solutions to its customers, build a more trustworthy brand, and create better consumer experiences. In addition, the partnership will deliver relevant customer experiences like the seasonal rebrand mentioned above that offered chocolate lovers a welcome nostalgic trip.
With Microsoft's Azure platform, Mars is able to quickly develop and scale the use of networking technologies to optimise the manufacturing process across different facets of the company. These include the control of the processes, consistency in their products and output, and the ability to gain a competitive advantage over other confectionery companies by increasing the capacity and speed of production, and the overall reduction of costs.
Mars plans to use digital technologies to make its production line more artificially intelligent. This will help them identify the best ways to create products by simulating them digitally and taking into account different factors and considerations.
Judson Althoff, Executive Vice President of Microsoft's Worldwide Commercial Business, said that the expanded relationship between the two companies helps in harnessing the expertise and the many insights Mars has gathered throughout its long history and its production of a host of different brands that have become close to the hearts of many people across the world. With the partnership, the two companies can create a foundation of cloud, data, and artificial intelligence, which will be beneficial to Mars in terms of transforming its processes and helping it grow faster as a company.
Mars has been cited as one of Fortune's Global Best Places to Work, ranking fifth overall in this list in 2020. The company is planning to incorporate digital technologies to transform its workplaces further. They are focusing on increasing their workers' digital skills through the Innovation Lab. This programme aims to use advanced technologies, create sustainability efforts, and innovate products digitally.
The Most Extensive Selection for Your Sweet Hampers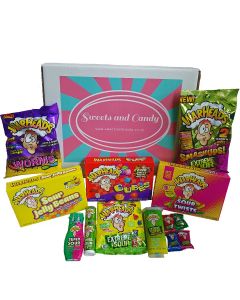 If you're looking for a supplier for your sweet hampers, you can trust Sweets and Candy to have everything you need in one place.
We have been selling sweets and confectionery for more than two decades. We supply to large retailers, independent shops, and even to individuals who want to satisfy their sweet tooth or choose a brilliant gift for friends and family. You can rest assured that with our extensive experience, you are guaranteed fresh, high-quality treats.
Alongside our gift hampers, customers can also buy wholesale sweets, bulk pick and mix bags, or request particular sweets to be prepacked in £1 ready-to-eat bags. For stands or parties, we recommend the Bulk 3kg bags, one of the most competitive mixes available.
Browse our selection today for the best sweet treats at reasonable prices. If you have any enquiries, call us on 0121 558 9541 or email sales@sweetsandcandy.co.uk. You get in touch via our contact page (https://www.sweetsandcandy.co.uk/contact/), and our helpful staff will aim to reply to you as soon as possible.